One House From Beach On 3rd Street With Ocean Views
5 bedrooms, 3 baths, sleeps 12
On beach block


Weekly Rate: $1,000-$6,000/week
Write a review

Second floor unit with third floor master bedroom.

This unit is literally a few minutes from putting your feet in the Atlantic Ocean. Sit at the kitchen table and watch the waves and sunrise over the horizon and enjoy the sunset from the front two decks. The upper master suite has a private deck with a view of the ocean. Every room is decorated with a nautical touch to give you that ``seashore`` feeling! All bedrooms have flat screen tvs and there is wifi throughout the house.

There are hardwood floors in the living and kitchen area and carpets throughout the bedrooms. The bathrooms have ceramic tile floors and ample cabinet and countertop space. The steps to the unit are completely enclosed, so if you park in the garage, you can go from your car to the unit without stepping outside. There is plenty of closet space, storage area, and seating to accommodate everyone.


The garage accommodates two parked cars with extra room for storage of bikes and beach items. There are two king-size beds, one queen-size bed, two twin-size beds, and two bunk beds. It has a fully-equipped kitchen, including microwave, toaster, blender, regular and Keurig coffee machine. There is also a washer/dryer combination unit.

Right outside our unit is a ramp that takes you to the Ocean City Boardwalk which is just three blocks from ``Wonderland`` amusement park and four blocks from Gillians water park. The boardwalk offers miniature golf, arcades, great food, and candy, plenty of shops and the best salt water taffies on the east coast!

Of course, on those ``not-so-great beach days`` you can head on up to Asbury Avenue and enjoy all the wonderful stores and activities.

You can also dine at a variety of restaurants ranging from fine dining, family friendly restaraunts, and fast food. If you are looking for some excitement, Atlantic City is only about 20 minutes away! No wonder Ocean City is known as ``America`s Favorite Family Resort!``

If you are looking for a great summer vacation with your family and/or friends, this is a great place to be!
Please e-mail or call for weekend rates and off-season weekly rates.
RENTAL RATES:
| | | | |
| --- | --- | --- | --- |
| Dates | Weekly Rate | Monthly Rate | Seasonal Rate |
| Jan 1, 2021 - Mar 31, 2021 | $1,000 | - | - |
| Apr 1, 2021 - May 21, 2021 | $1,500 | - | - |
| May 22, 2021 - Jun 6, 2021 | $2,500 | - | - |
| Jun 7, 2021 - Jun 26, 2021 | $6,000 | - | - |
| Jun 27, 2021 - Aug 21, 2021 | $5,400 | - | - |
| Aug 22, 2021 - Aug 29, 2021 | $4,000 | - | - |
| Aug 29, 2021 - Sep 5, 2021 | $3,000 | - | - |
| Sep 5, 2021 - Sep 12, 2021 | $2,500 | - | - |
| Sep 12, 2021 - Sep 19, 2021 | $2,000 | - | - |
| Sep 19, 2021 - Sep 25, 2021 | $1,600 | - | - |
| Sep 26, 2021 - Oct 16, 2021 | $1,200 | - | - |
| Oct 16, 2021 - Dec 31, 2021 | $1,000 | - | - |
AVAILABILITY CALENDAR
(Highlighted dates are not available)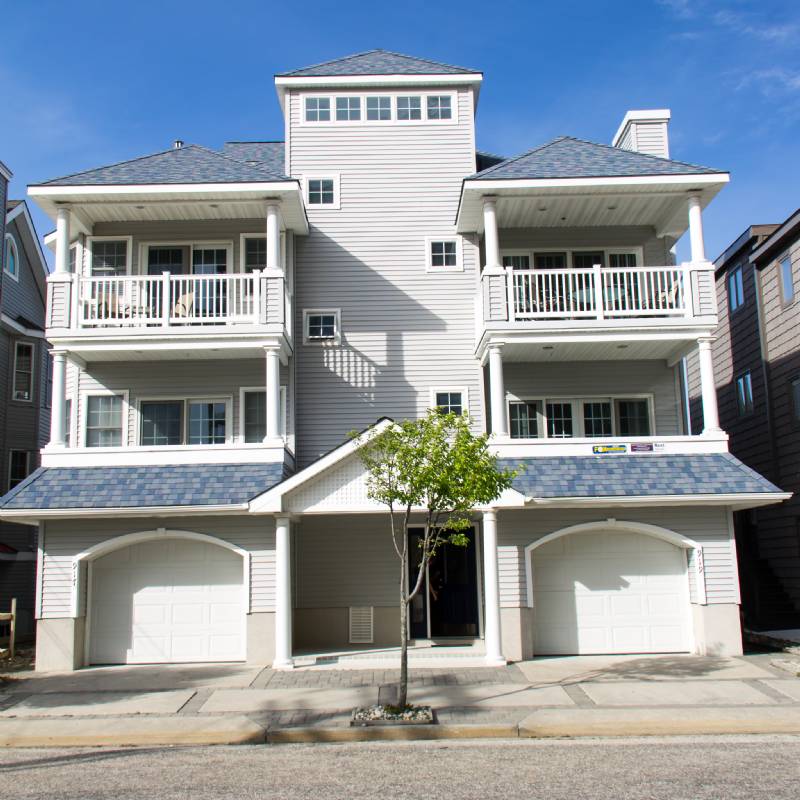 Contact homeowner
Jonathan Rudd
717.623.7943
(Please mention ShoreVacations.com
when you call)